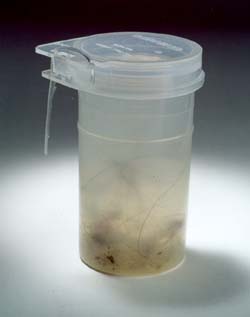 Most pedicure spa manufacturer currently uses a piped whirlpool system.

The potential hazard of such a system is inherent of its fundamental system design

.

Even after the basin has been completely drained, water and the bi-products of the of pedicures remain trapped inside the piped circulation system.

There is no way to make physical contact with the inside of these pips to remove remnant water and bio-film

The stagnant water becomes a breeding ground for dangerous mycobacteria, fungus and other pathogenic organisms.

Scientific and empirical evidence reveals that manufacturers recommendations to flush pipes and air channels with detergents and bleach are ineffective, leaving conventional systems unclean & unsafe

A microbiologist at a major university found infectious bacteria in 100% of piped whirlpool baths and air tubs tested. Included among these dangerous organisms were E. coli, Staph, Pseudomonas and Legionella.
We created a new standard by which all others will be judged.
Our system utilizes a patented unitized jet/suction device by SANIJET that is certified by NSF International (www.nsf.org) for total cleanability and disinfection (NSF Protocal P182).
This design eliminates the use of pipes to circulate water, thereby allowing water to be drained 100% every time.
A simple turn of the wrist removes each jet for quick and thorough cleaning of every wetted component.
Additional spare sets of the jet assembly can be used for alternating between services to reduce down time and to reassure clients of cleanliness.
Our jets function quietly and smoothly compared to the noisy, rumbling sounds of typical piped and air pedicure spa systems.
SANIJET's "pipeless" whirlpool system was awarded Popular Science magazine's "Best of What's New" in. home technology.